Sharing Devices, Sharing Views, Sharing Location
We often navigate in small groups, using multiple resources to help us along. The car, for example, is becoming crowded with aids: while we used to fight over what a paper map is telling us, over not paying attention to road signs and who is being a back-seat driver, we must now add to this the dynamic information on an in-car navigation device, and the limitless context-driven search of internet-enabled mobile devices. On foot, the situation is similar. Where before we had static maps and guidebooks, pedestrian signage, kiosks and manned information booths, and passers-by, we now add to this a range of location-based services on our mobile devices.
This research considers how small groups conduct ad hoc, informal wayfinding tasks, with and without new technology. We aim to build understanding of the dynamics of informal group navigation so that applications can be built to effectively support this highly dynamic, highly collaborative activity.
The work presented here is split roughly across three projects. Small Details examined how digital supports for pedestrian wayfinding can be integrated with aids already present in the environment. Need to Know considered how remote parties view the presentation and availability of different kinds of location information to support group navigation and other forms of spatial coordination. Shared Views explored the sharing of digital spatial and planning data across mobile devices when collaborators are co-located.
Small Details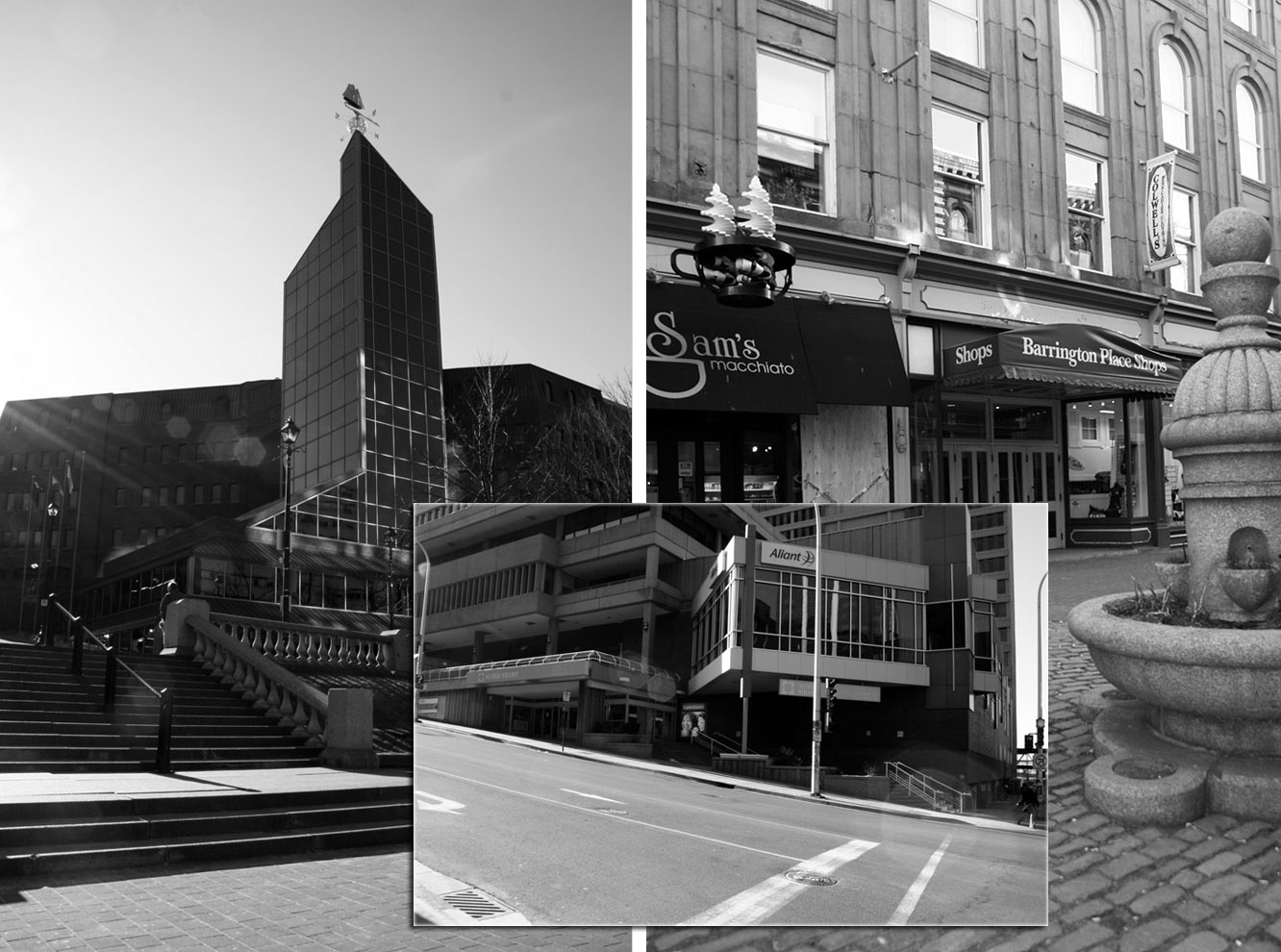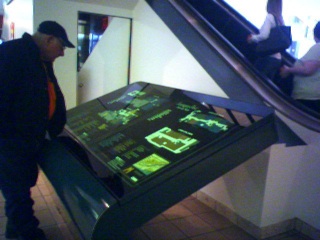 This research, conducted in collaboration with Bonnie Mackay, considered how personal and environmental navigation aids are used together, and how this impacts the design of digital services for pedestrian navigation.
We designed an experimental simulation that involved pedestrian navigation through urban buildings. After preliminary exploration of the navigational support (e.g. signage, kiosks, vistas, personnel) in a range of urban buildings, three were chosen (a typical shopping mall, a boutique/tourist mall, and a convention centre). All three were connected by an indoor pedestrian walkway (pedway) system.
Participant pairs shared a single mobile phone on which route information was presented. Experimental variables were the route's presentation format and the method for retrieving the route. The study shed light on how personal technologies are shared during group navigation, on how the environment (including the embedded navigational support) influence patterns of collaboration and technology use, and how designing for direct integration between the device and embedded tools (like kiosks) can benefit wayfinding [1,3,6,7,8].
Contemporary work looked at modifications of the Marked-up Maps prototype application to support shared use of augmented maps. The maps can be digitally annotated, and annotations are immediately visible to all clients using the map. To support divide-and-conquer strategies when searching map regions, the regions that have been selected by others on the map can be visualized prior to performing a spatial query or selection operation [9,10].
Need to Know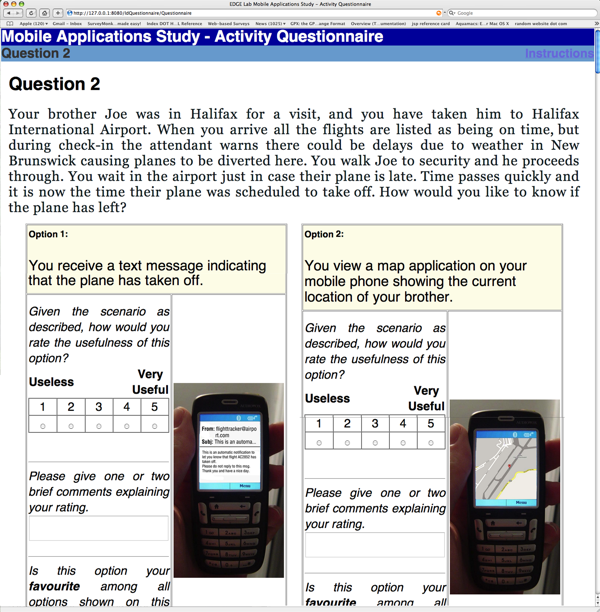 This project was a collaboration with Intel Research (Seattle). In it we considered how variations in the context of use impact the kind of information people need or want regarding the location of others.
We conducted a diary study to build a sense of when people want or need to know details about another's location in their daily lives. From this we designed a number of scenarios in which location information is needed, and for each we mocked up five interfaces providing compatible information. We then personalized each scenario for all of our 50 participants to elicit more realistic feedback. Participants were presented with variations of each scenario (in which some contextual attribute was varied, such as the activity of the person you are requesting location information about), asked to rank the five interface options and comment on their #1 choice.
Results show a remarkable influence of even seemingly innocuous contextual details, highlighting the complexity of the design space in which mobile social services exist. Notable trends include a concern for what is 'appropriate' rather than to follow dogmatic standards of individual privacy, and a preference for familiar technologies when the information need was deemed 'urgent' [12].
Sharing views across devices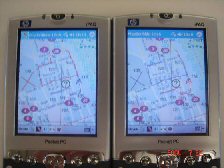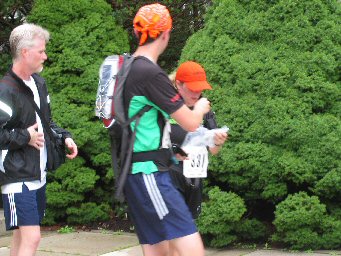 While having access to digital information can be beneficial in many instances, it is difficult for multiple people to view information simultaneously on small devices. This project was a collaboration of many members of the EDGE lab. Together, we explored how the ability to share annotations across personal devices might benefit coordination and collaboration while navigating a city.
The City Chase
This study involved three pairs of participants using handheld computers in a city-wide adventure scavenger hunt called the City Chase. This was an organized event in which teams were required to navigate a city, solve clues, find race pit-stops and perform unusual tasks at these stops. The objective of the race was to finish these challenges before any other team. Our three research teams were equipped with handheld devices, cell phones, paper and electronics maps, and bus schedules to help them achieve this goal. A "command center" was setup in the lab where race participants could call to request online resources and other help.
Our study was plagued by a number of methodological challenges (pertaining to mobile data capture and a lack of environmental control). The study employed a form of experience prototyping: the participants were lab members, familiar with the design (and blemishes) of the prototypes they were using. Because they were engaged in a very real contest, bias toward the technology was overcome -- so much so that the experience was marked by an almost total neglect of the prototype in favour of more traditional paper maps and phone assistance. [2,4,5,11]
Publications
Methodology
Reilly, D., Inkpen, K., and Watters, C. (2009) Controlling, integrating, and engaging context in urban computing research. In Proceedings of the 42nd Annual Hawaii International Conference on System Sciences (HICSS-42), Waikoloa, HI, USA, January 2009, 1-10. doi:10.1109/HICSS.2009.132
Reilly, D., Dearman, D., Welsman-Dinelle, M., and Inkpen, K. 2005. Evaluating Early Prototypes in Context: Trade-offs, Challenges, and Successes. IEEE Pervasive Computing 4, 4 (Oct. 2005), 42-50. doi:10.1109/MPRV.2005.76
Reilly, D. (2008). Group navigation: small interventions, early prototypes, experimental control, and the Living Lab. Workshop on User Involvement in the Innovation Process: A Living Lab Approach, Halmstad, Sweden, May 2008.
Kellar, M., Reilly, D., Hawkey, K., Rodgers, M., MacKay, B., Dearman, D., Ha, V., Ma cInnes, J.W., Nunes, M., Parker, J.K., Whalen, T. and Inkpen, K.M. (2005). It's a Jungle Out There: Practical Considerations for Evaluation in the City. In Extended Abstracts of CHI 2005. Portland, USA, April 2005. 1533 - 1536.
Melanie Kellar , Kori M. Inkpen, Dave Dearman, Kirstie Hawkey, Vicki Ha, Joe MacInnes, Bonnie Mackay, and Mike Nunes, Karen Parker, Derek Reilly, Malcolm Rodgers, Tara Whalen. (2004). Evaluation of Mobile Collaboration: Learning from our Mistakes. Technical Report CS-2004-13. Department of Computer Science, Dalhousie University.

Prototypes, Evaluations and Overviews
Reilly, D., Mackay, B., Watters, C. and Inkpen, K. (2008) Small details: using one device to navigate together. In Proceedings of the SIGCHI Conference on Computer Supported Cooperative Work (CSCW '08), San Diego, CA, USA, November 2008, 253-256. doi:10.1145/1460563.1460604
Reilly, D., MacKay, B., Watters, C., and Inkpen, K. Planners, Navigators, and Pragmatists: wayfinding in pairs with a single mobile phone. Journal of Personal and Ubiquitous Computing. doi:10.1007/s00779-008-0207-2
Reilly, D., MacKay, B., and Inkpen, K. How mobile maps cooperate with existing navigational infrastructure. In Meng, Zipf and Winter (eds), Map-based Mobile Services (LNG&S), Springer-Verlag, 2008. doi:10.1007/978-3-540-37110-6_13
Reilly, D. and Inkpen, K. (2006): "Give me that!": partitioning and extending maps for group navigation and planning. In adjunct proceedings of CSCW 2006 (demo), Banff, Canada, November 2006.
Reilly, D. (2006). Is a paper map a mobile shared display? Workshop on Collaboration over paper and digital documents (CoPADD 2006), CSCW 2006, Banff, Canada, November 2006.
Reilly, D. (2004). Not in Karlsplatz anymore: Navigating cities together. In Ubicomp 2004 Workshop on Ubicomp in the Urban Frontier, Nottingham, England, September 2004.
Reilly, D., Dearman, D., Ha, V., Smith, I. and Inkpen, K. (2006) "Need to Know": Examining Information Need in Location Discourse. In Proceedings of Pervasive 2006, Dublin, Ireland, May 2006, LNCS 3968, 33-49. doi:10.1007/11748625_3