Marked-up Maps
Marked-up Maps integrate paper maps with electronic information resources on small devices. This allows portable, large, foldable paper maps to serve as the basis for location-specific information retrieval, and navigation-related tasks.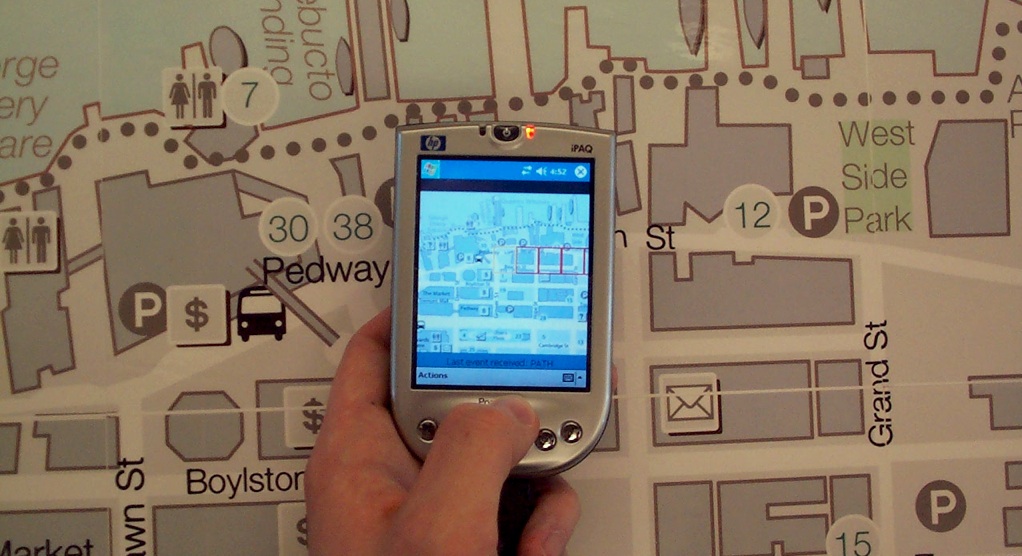 Prototypes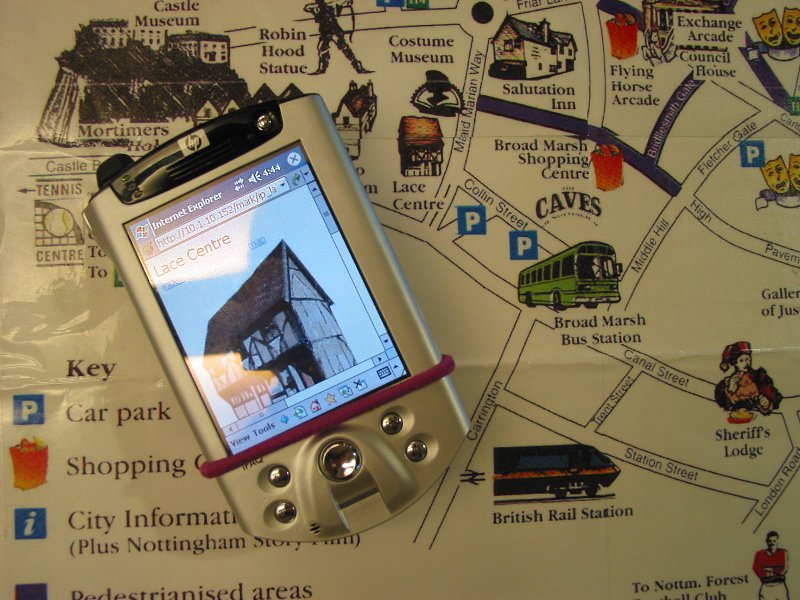 Our first prototype implementation uses paper maps fitted with an array of RFID tags/labels. Tags are placed either beneath each region of interest, or in a regular grid (permitting different kinds of interaction). PDAs with RFID readers retrieve information by holding the device face-up in front of the region of interest and pressing a button on the device [11].
The second prototype extended this by permitting lens functionality, gestural interactions (lasso and path selections), and more advanced discrete interactions (selecting multiple items and filtering via a paper menu) [8]. Subsequent work has added multi-user capability and extensions for collaborative annotation [5,6].
In addition, a number of alternative technical approaches to interaction with maps have been explored, including a hybrid RFID + vision approach built on map iconography [3], and combining optical flow methods with markers in the near-infrared [4].
Evaluation in Context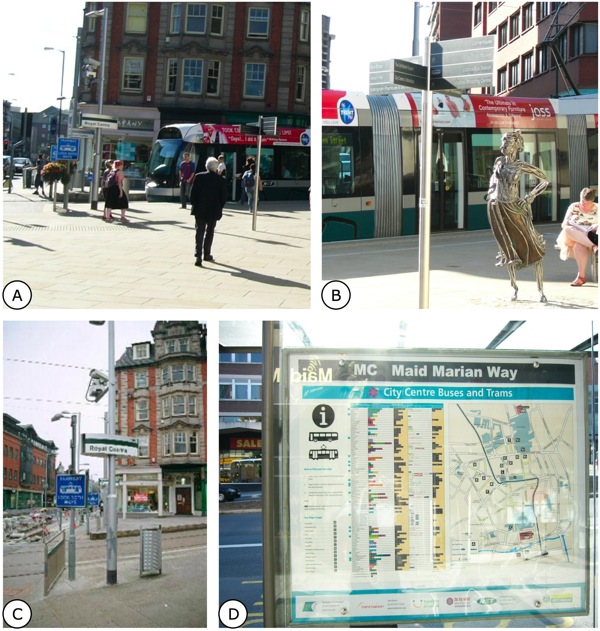 A marked-up map of Nottingham, England was used to tour the city. Evaluating the use of the paper map and PDA combination in a real scenario guided further development of the prototype [8,10].
Exploratory Study
We ran a study to explore user attitudes and use patterns of our marked-up map implementation for retrieving location-specific information. Three different maps (Nottingham - tourist, Montreal - subway, Vancouver - road map with grid) were marked-up with relevant information (tourist attraction details, subway station information, regional information).
We compared this with a combination paper map and electronic resource including an electronic version of the map and an alphabetical index. Results showed that more time was spent looking at the paper map when the marked-up links were provided, and that tasks involving 2 or more map locations were completed more efficiently and correctly using the marked-up technique [10].
Impact of Feedback and Map Layout on Interaction Patterns
In this study we examined the relationship between selection feedback (on the device), the paper map's design, and the interaction techniques used to interact with the map. Encouragingly, the interaction techniques chosen to accomplish different task families were largely consistent with expectations [9]. Feedback style and map layout were shown to significantly impact interaction patterns, however, leading to important considerations for mixed media design [1].

Publications
Reilly, D., Inkpen, K., and Watters, C. 2009. Getting the Picture: how feedback and layout impact mobile device interaction with maps on physical media. In Proceedings of the 13th International Symposium on Wearable Computers (ISWC'09), Linz, Austria, September 2009.
Reilly, D., MacKay, B., and Inkpen, K. How mobile maps cooperate with existing navigational infrastructure. In Meng, Zipf and Winter (eds), Map-based Mobile Services (LNG&S), Springer-Verlag, 2008. doi:10.1007/978-3-540-37110-6_13
Chen, H. and Reilly, D. (2007): "GET-based map icon identification for Interaction with Maps and Kiosks". In Proceedings of VideoRec'07, special session of Computer and Robotic Vision (CRV '07).
Reilly, D., Smolyn, G. and Chen, H. (2007): "Toward fluid, mobile, and ubiquitous interaction with paper using recursive 2D barcodes". Pervasive Mobile Interaction Devices 2007 (PerMID 2007), workshop at Pervasive 2007, Toronto, Canada, May 2007.
Reilly, D. and Inkpen, K. (2006): "Give me that!": partitioning and extending maps for group navigation and planning. In adjunct proceedings of CSCW 2006 (demo), Banff, Canada, November 2006.
Reilly, D. (2006). Is a paper map a mobile shared display? Workshop on Collaboration over paper and digital documents (CoPADD 2006), CSCW 2006, Banff, Canada, November 2006.
Reilly, D. and Chen, H. (2006) Mobile Lenses: a Hybrid Approach to Direct Interaction with Maps and Kiosks. Pervasive Mobile Interaction Devices 2006 (PerMID 2006), Pervasive 2006 workshop proceedings, Dublin, Ireland, May 2006.
Reilly, D., Dearman, D., Welsman-Dinelle, M., and Inkpen, K. 2005. Evaluating Early Prototypes in Context: Trade-offs, Challenges, and Successes. IEEE Pervasive Computing 4, 4 (Oct. 2005), 42-50. doi:10.1109/MPRV.2005.76
Reilly, D., Welsman-Dinelle, M., Bate, C., and Inkpen, K. (2005). Just Point and Click? Using Handhelds to Interact with Paper Maps. In Proceedings of Mobile HCI 2005 (short paper, to appear). (PDF)
Reilly, D., Rodgers, M., Argue, R., Nunes, M., and Inkpen, K. (2005). Marked-up Maps: Combining Paper Maps and Electronic Information Resources. In Journal of Personal and Ubiquitous Computing (to appear). (PDF)
Reilly, D. (2004). Marked-up maps: A mixed media approach to group navigation and information gathering. In 2nd International Workshop on Mobile and Ubiquitous Information Access, September 2004, Glasgow, Scotland. (PDF)