Description


This is a class of technical computer literacy. Students can expect to learn about computers in a general way and how computers affect the way we live and work. Students will be given an opportunity to become familiar with typical applications of software such as word processors, spreadsheets and database applications. Other topics will include the use of the internet, creation of web pages, and simple programming concepts. No previous computer experience is required.



---

Course Information

Current Offering: Fall 2009!

Class: 10:05-11:25, Tuesdays and Thursdays, CS 127

Instructor: Dr. Stephen Brooks
Office Hours: Fridays, 1:00-2:00, CS 327
---

Course Texts

Tomorrow's Technology and You, Complete (9th Edition), by George Beekman, Prentice Hall.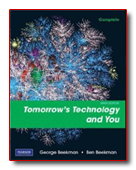 GO! with Microsoft Office 2007 Introductory (3rd Edition), by Shelley Gaskin, Prentice Hall.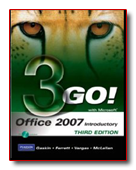 ---

Restrictions


This class is open to Arts and Social Sciences and Health Education students only. This class cannot be counted towards the Bachelor of Commerce or a Minor in Business.



---

Plagiarism


See the Dalhousie – Intellectual Honesty handout.



---

Late Submission Policy


All course assessments including labs, assignments and exercises must be handed in on time by the specified due date. Work handed in late will not be considered and will be graded zero.



---

Grading Policy


All grades for all assessments are final and not subject to negotiation. Changes to grades will only be made when an error has been made in the addition of marks.



---

Assessments


There are five items that will make up the final grade for this course:
15% In-class Quizzes
35% Assignments
25% Midterm Test
25% Final Test
---

Test Dates

Midterm Test: October 22nd, 2009
Final Test: December 1st, 2009
---

Quiz Dates

First Quiz: October 6th, 2009
Second Quiz: November 10th, 2009
---
Return to main page.