HOME
Hall of Fame
News Archive
Links
---
Resources
(local access)
---
---
Previous Contests
Dalhousie programming contest: Friday, 20-Aug-2010, 15:00 - 17:00, Teaching Lab 1
Dalhousie programming contest: Friday, 25-Jun-2010, 15:00 - 17:00, Teaching Lab 2
Dalhousie Programming Contest 2009: 4-Dec-2009, 15:00 - 18:00, Teaching Lab 2
Northeast North American Regional Contest: 31-Oct-2009, Sat
ACM Preliminary Contest - APICS'2009, 23-Oct-2009, 12:00 - 17:00, Dalhousie University
Dalhousie practice programming contest: Friday, 16-Oct-2009, 15:00 - 18:00, Teaching Lab 2
Dalhousie practice programming contest: Friday, 9-Oct-2009, 15:00 - 18:00, Teaching Lab 2
Dalhousie practice programming contest: Wednesday, 7-Oct-2009, 16:30 - 17:30, Teaching Lab 2
Dalhousie practice programming contest: Friday, 2-Oct-2009, 15:00 - 18:00, Teaching Lab 2
Dalhousie practice programming contest: Wednesday, 30-Sep-2009, 16:30 - 17:30, Teaching Lab 2
ACM Preliminary Contest - APICS'2008: Friday, 17-Oct-2008, 12:00 - 17:00, Universite de Moncton, Moncton
Dalhousie Programming Contest 2008: Thursday, 2-Oct-2008, 11:30 - 14:30, Teaching Lab 2
Dalhousie practice programming contest: Thursday, 25-Sep-2008, 11:30 - 14:30, Teaching Lab 2
Dalhousie practice programming contest: Tuesday, 23-Sep-2008, 13:00 - 14:30, Teaching Lab 2
Dalhousie practice programming contest: Thursday, 18-Sep-2008, 11:30 - 14:30, Teaching Lab 2
Dalhousie practice programming contest: Tuesday, 16-Sep-2008, 12:30 - 14:30, Teaching Lab 2
Dalhousie Programming Contest: Thursday, 13-Dec-2007, 14:15-17:00, Teaching Lab 2
ACM Preliminary Contest - APICS'2007, 13-Oct-2007, 12:00 - 17:00, UNB, Fredericton
Dalhousie Programming Contest 2007: Saturday, 22-Sep-2007, 14:00 - 18:00, Teaching Lab 2
Dalhousie practice programming contest: Thursday, 20-Sep-2007, 13:00 - 16:00, Teaching Lab 2
Dalhousie practice programming contest: Thursday, 13-Sep-2007, 13:00 - 16:00, Teaching Lab 2
Programming competitions information session and practice: Tuesday, 4-Sep-2007, 13:00 - 15:00, Teaching Lab 2
Dalhousie practice programming contest: Thursday, 22-Mar-2007, 16:00 - 18:00, Teaching Lab 2
Dalhousie practice programming contest: Thursday, 15-Mar-2007, 16:00 - 18:00, Teaching Lab 2
Dalhousie Programming Contest 2006: Monday, 25-Sep-2006, 17:30 - 20:30, Teaching Lab 1
Dalhousie practice programming contest: Monday, 18-Sep-2006, 17:30 - 20:30, Teaching Lab 1

Dalhousie remote practice programming contest: Wednesday, 12-Jul-2006, 17:00 - 12:00 (the day after)

Dalhousie Spring Programming Contest: Monday, 20-Mar-2006, 17:00 - 20:00, Teaching Lab 1
Prizes sponsored by GenieKnows.com
Dalhousie practice programming contest: Monday, 30-Jan-2006, 17:00 - 20:00, Teaching Lab 1
Northeast North American Regional Contest: 5-Nov-2005, Sat, Rochester Institute of Technology, Rochester
APICS Preliminary Contest: 21-Oct-2005, Fri, Acadia University, Wolfville
Team practice: 17-Oct-2005, 4:30pm-6pm, Teaching Lab 2
Team practice: 14-Oct-2005, 2:30pm-5pm, Teaching Lab 3
Dalhousie Programming Contest 2005: Saturday, 8-Oct-2005, 10am-3pm, Teaching Lab 1
Dalhousie practice programming contest: Thursday, 22-Sep-2005, 17:30 - 20:15
Dalhousie practice programming contest: Wednesday, 3-Aug-2005, 17:00 - 20:00
Dalhousie practice programming contest: Wednesday, 20. Jul 2005, 17:00 - 20:00
Dalhousie practice programming contest: 6-Jul-2005
... more to be added
Note: We do not have pictures and material for every year: just accidentally and not for a particular reason. If you have some material that could be shared, please send it to vlado@cs.dal.ca.
APICS 2006 Teams
| | |
| --- | --- |
| | |
| Team Dalhousie Gold 2006 | Team Dalhousie Black 2006 |
---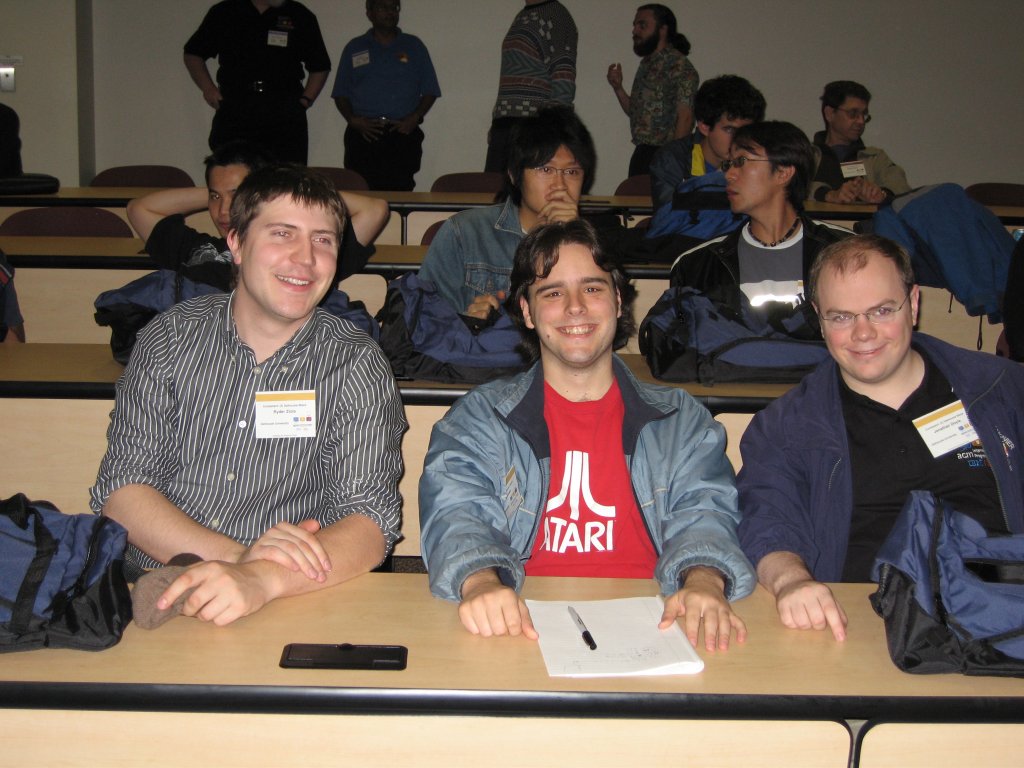 Ryder Ziola, Joel Muzzerall, and Jonathan Doyle
- the team Dalhousie Black advanced to the regional finals held in Rochester NY in November 2005. With three solved problems, the team was placed 7th and was 2nd best Canadian team. There where 12 teams in the finals from the North East North American region, which included 76 teams from 48 universities.
---
Dalhousie - The Best Canadian Team in Region in 2003
From CS News, Nov 10, 2003: Programming Competition in Rochester, New York

The Dalhousie programming competition team placed 5th out of 16 teams this weekend at a very competitive ACM Northeast North America Regional Championship. We placed higher than any of the Canadian teams from this region (includes Quebec and Atlantic provinces).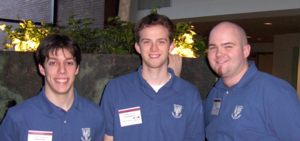 Our team, shown above, consists of Jesse Rusak, Chris Bebbington, Colin Bate.

Full results:


| | | |
| --- | --- | --- |
| Position | School | Questions Answered |
| 1. | MIT | 6 |
| 2. | Harvard | 5 |
| 3. | SUNY Binghamton | 3 |
| 4. | U. of Rochester | 3 |
| 5. | Dalhousie | 3 |
| 6. | Rochester I.ofT. | 2 |
| 7. | Laval | 2 |
| 8. | Memorial | 2 |
| 9. | WPI | 2 |
| 10. | Brown | 2 |
| 11. | UNB | 2 |
| 12. | Middlebury | 2 |
| 13. | St. Mary's | 1 |
| 14. | SUNY Fredonia | 1 |
| 15. | Amherst | 0 |
| 16. | McGill | 0 |